University of Bari "Aldo Moro"
July 8, 2015 – July 9, 2015
IES (Innovation and Society: in Italian, "Innovazione e Società") is the biennial conference organizated by the SIS research group SVQS (Statistica per la Valutazione e la Qualità nei servizi), now reaching the sixth edition:

IES 2015 - Statistical methods for service assessment
Guidelines and template for authors can be found here.
In order to send definitive abstracts, the correct Conference mail address is ies2015bari@gmail.com.
>>> Detailed Conference Program <<<
The IES 2015 conference is twinned with the conference
Choice and preference analysis for quality improvement
organized by ASA in 9 and 10 july, in the same places.
Main location for both Conferences: Athenaeum, p. Umberto I, n. 1, Bari.
Secundary location: Student Center (former "Palazzo delle Poste"), p. Cesare Battisti, Bari.
Announcements
General: IES 2015

IES 2015 CONFERENCE is the biennial conference of the SIS research group, "Statistics for the services' assessment", and will be held in Bari in July, 8-9  2015.
Posted: 2015-02-01
More...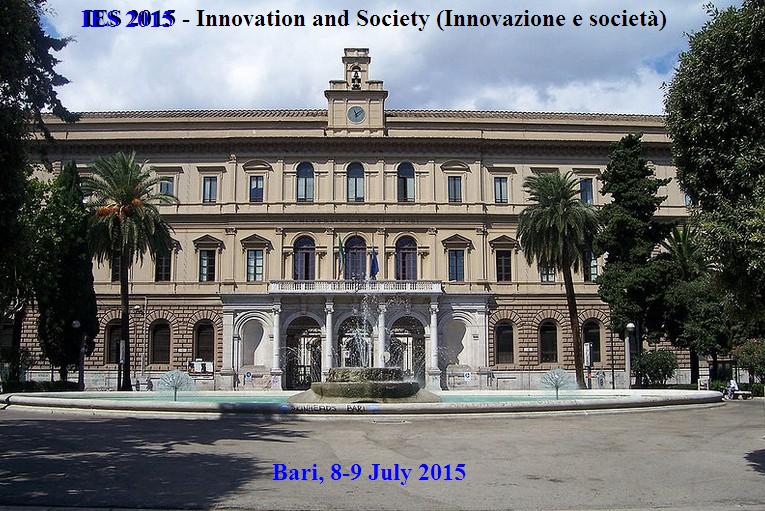 Conference Information
This work is licensed under a
Creative Commons Attribution 3.0 License
.
This website is administrated by Francesco d'Ovidio and Stefano d'Ovidio, but the contents are proposed by the Conference Scientific Board.